Checkup and Cleans in Sydney CBD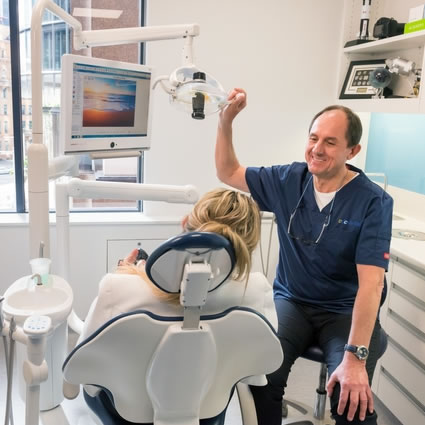 At CDC Dental, we are passionate about helping every patient achieve a healthy and beautiful smile. We provide a professional checkup and clean, and an assessment of gum health to help you smile brighter for longer.
Dental Cleanings and Examinations
At CDC Dental, we recommend patients come in for regular cleans and dental examinations, often every 6 months. Bi-yearly examinations with our dentist are vital to your oral health and wellbeing, as they allow us to remove calcified plaque and tartar build-up that has gathered along the teeth and gums. Professional cleanings and exams can keep your gums and teeth healthy, and may help prevent gum disease.
NEW PATIENTS »

Dental Examination
Your dental examination with the dentist includes the following:
A thorough oral cancer screening, both visually and digitally (using the fingers), checking all your lymph nodes, lips, tongue and the insides of your mouth and cheeks.
A series of diagnostic X-rays that provide a comprehensive view of your teeth and the condition of your bones.
A periodontal examination, which includes a thorough screening and assessment of your gums — to check for any signs of periodontal (gum) disease.
An occlusal exam, to check for bite problems (underbite, overbite, crossbite), worn teeth, and jaw problems, such as TMJ.
A tooth-by-tooth check to identify cavities, examine prior treatment and restorations, and the current condition of each. We will locate any chipped, cracked or missing teeth, or identify any work that needs to be performed, such as protective sealants or fluoride treatments to strengthen the teeth.
For those suffering from periodontal disease, we advise you to come in more regularly. However, our dentist will discuss a suitable treatment plan during your consultation.
Dental Cleaning With the Hygienist
A dental hygienist is a registered professional specifically trained in the prevention and treatment of gum disease and an integral part of the preventive dental team at our practice.
Regular dental hygiene appointments to clean and polish your teeth are the cornerstone of any great smile and the foundation of good oral health. While brushing at home twice a day is crucial, you can miss certain places. That's why a professional teeth cleaning by a dental hygienist is necessary when it comes to maintaining a healthy smile.
Dental cleaning appointments with the hygienist involve the following:
A dental hygienist is a registered professional specifically trained in the prevention and treatment of gum disease and an integral part of the preventive dental team at our dental practice.
During your dental hygiene appointment, the dental hygienist will
A professional scaling, which involves the removal of calculus, plaque and bacteria responsible for gum disease.
A complete comprehensive polishing of your teeth to remove unsightly stains, to give you a fresher and healthier smile. Our advanced AIRFLOW® technology will ensure your clean feels like a day at the spa.
An application of fluoride solutions to prevent tooth decay.
Periodic X-rays to establish the condition of pre-existing restorations, to check for cavities, and to assess and monitor bone health.
A demonstration of individual and personalised oral hygiene techniques most suitable for you to keep your teeth and gums in optimal health.
Dietary advice relating to the prevention of oral disease.
Tender or swollen gums. Bleeding gums after brushing or flossing. Food catching between your teeth after eating. These are all signs of gum disease. Did you know that gum disease is the leading cause of tooth loss in adults 30 years or older?
When left untreated for long periods, the bacteria from plaque and tartar can wreak havoc on your gums, causing gum disease (known as gingivitis).
The build-up of tartar and plaque leads to inflammation of the gums, known as gingivitis. If you are not flossing or brushing your teeth regularly or correctly, you might notice your gums being red, swollen or perhaps bleeding. Removing all the plaque and tartar from your teeth, and keeping it off, can cure gingivitis. While gingivitis is treatable in its early stages, it can progress to a much more serious condition (known as periodontitis) if proper care is not provided.
A disease of the gums and the supporting bone of the teeth, periodontitis usually occurs due to untreated chronic gingivitis. When inflammation gets into the supporting bone, it irreversibly damages the bone in that area. As the bone resorbs or shrinks away, teeth may become sore and/or loose, resulting in tooth loss.
Bone loss caused by periodontitis is not reversible. The bone will never grow back. If you have periodontitis, it takes careful monitoring, diligent home care, and thorough dental hygiene therapy to arrest its progress. With regular dental hygiene visits, we can plan a series of treatments to slow down the process and prevent early tooth loss. In many cases, we can successfully stop further deterioration of the gum tissues, enabling you to hold onto your teeth longer.
Oral Health Care at Home
Along with regular dental cleanings and examinations at our dental practice, it's also important that you practice a proper oral health care regime at home. This keeps your teeth and gums healthy all year-round, including in-between visits.
We recommend brushing for at least two minutes twice a day, using a soft bristled brush. Soft bristles are gentle on your gums, helping prevent sensitivity and erosion. Additionally, you should clean between your teeth and just below the gum lines by using dental floss at least once a day.
Get Started
Take that first step towards a bright and healthy smile. Book an appointment today!

Dental Checkup and Clean Sydney Sydney CBD NSW | CDC Dental