Check and Cleans in Sydney CBD
Optimal Oral Health Starts Here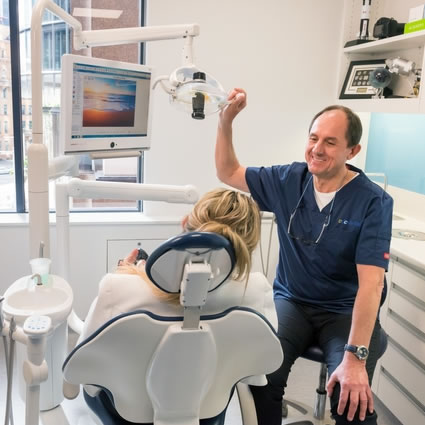 At CDC Dental, we recommend patients come in for regular cleans and dental examinations, often every 6 months. For those suffering from periodontal disease, we advise that you come in more regularly, however our dentist will discuss a suitable treatment plan during your consultation.
Bi-yearly examinations with our hygienist are vital to your oral health and wellbeing, as they allow us to remove calcified plaque and tartar build-up that has gathered along the teeth and gums.
Our advanced AIRFLOW® technology will ensure your clean feels like a day at the spa.
When left untreated for long periods of time, the bacteria from plaque and tartar can wreak havoc on your gums, causing gum disease (known as Gingivitis). While Gingivitis is treatable in its early stages, it can progress to a much more serious condition (known as Periodontitis) if proper care is not provided. Periodontitis can cause gum erosion, along with bone and tooth loss, therefore it is vital that your teeth and gums are taken good care of.
NEW PATIENTS »

Oral Health Care at Home
Along with regular dental cleanings and examinations at CDC Dental, it's also important that you practice a proper oral health care regime at home. This keeps your teeth and gums healthy all-year-round, including in-between visits.
We recommend brushing for at least two minutes twice a day, using a soft bristled brush. Soft bristles are gentle on your gums, helping to prevent sensitivity and erosion. Additionally, you should clean between your teeth and just below the gum lines by using dental floss at least once a day.
Are You Suffering from Gum Disease?
Sometimes, a consultation with our friendly and professional dentist may be necessary before you're due for a check-up, particularly if you're experiencing signs of gum disease. These may include:
Tender or swollen gums
Bleeding gums after brushing or flossing
Food catching between your teeth after eating
Schedule an Appointment
If you're worried about any of the symptoms above, please schedule an appointment at CDC Dental today. Regular, bi-yearly dental cleanings and examinations are vital to keeping your gums and teeth healthy, so don't delay!
BOOK ONLINE »

Check and Cleans Sydney CBD | CDC Dental