General Dentistry in Sydney CBD
CDC Dental provides you with a range of general dentistry services to meet all your needs. Whether you need a routine checkup or have a particular concern, Dr Tony Goswell and our friendly team are ready to help you.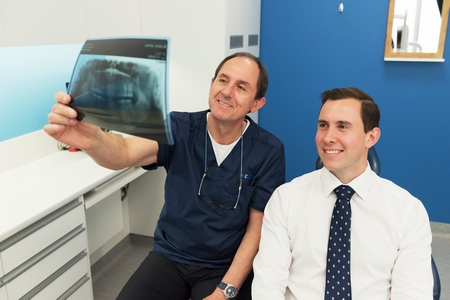 Our services include:
---
Cleaning and Examination
We'll start your visits off with a cleaning and periodontal examination by our dental hygienist. Next, you'll see your dentist for a thorough examination, including digital X-rays as indicated. If necessary, we'll create a plan for future visits. Read more >>
Emergency Dentistry
From a chipped tooth to a throbbing toothache, dental emergencies arise all the time. To address your concerns when you need it most, we attend to emergencies as soon as possible and will do all we can to work you into our schedule immediately. Read more >>
White Fillings
Small areas of decay can be repaired with fillings that match the colour of your natural teeth. We can also replace amalgam fillings to restore the appearance of your smile. Read more >>
Root Canal Treatment
Root canal treatment can save a tooth from extraction and relieve the pain of inflammation and infection. Tony's gentle touch will ensure your comfort throughout the procedure. Read more >>
Mouthguards
If you play a sport where there is a risk of injury to the mouth, mouthguards can keep your teeth protected and smile intact. In addition, mouthguards can protect you from other injuries such as concussions, jaw fractures and neck injuries. They're ideal for adults and children alike. Read more >>
Nightguards and Splints
Clenching and grinding your teeth at night can result in painful headaches, sore muscles and damage to your teeth. A custom-made nightguard or splint comfortably fits your bite and won't irritate your gums like over-the-counter options. Read more >>
Dentures
We offer two types of dentures. Partial dentures are used to replace a small number of missing teeth, and full dentures replace all teeth. We can discuss both options with you.
Wisdom Teeth Extractions
Tony is well-versed in routine wisdom teeth extractions. If we find your case is advanced and needs the help of a specialist, we'll refer you to a doctor in our network of professionals.
Read more >>
Get the top-quality dental treatment you need in our caring, professional environment. Use your insurance coverage for your visits.
Contact us
today!

Sydney CBD General Dentist | CDC Dental | (02) 9231 3822