Invisalign® Braces in Sydney CBD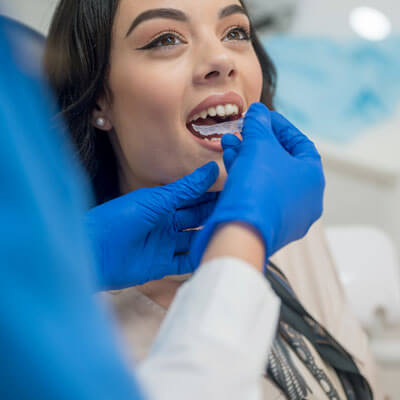 A beautiful smile with perfectly aligned teeth can be the ultimate confidence booster. With Invisalign®, you have an alternative to the metal braces that are now a thing of the past. This modern approach to straightening teeth uses a series of custom-made aligners created just for you. They're comfortable, smooth and virtually invisible. Your teeth will gently be shifted into place based on the desired amount of straightening you've discussed with Dr Tony Goswell. Without uncomfortable metal brackets or wires, getting straight teeth is simpler than ever with no interference in your everyday life.
Get Started on a Straighter Smile
At your appointment for Invisalign®, Dr Tony will take X-rays, pictures and moulds of your teeth. We'll then create a digital 3-D image of your mouth currently and show you how your teeth will gently move into place during each treatment stage. The custom-made aligners will be switched out every two weeks as you move into further stages of treatment. Each aligner will gradually shift your teeth more until they're in the desired position. We recommend that you wear the aligners for 20-22 hours per day and will monitor your progress with regular checks. On average, treatment for adults takes about a year. Once it's completed, we may recommend retainers to keep your teeth in position and your smile looking beautiful. You can visit www.invisalign.com for more information.
NEW PATIENTS »

What to Expect During Invisalign® Treatment
With Invisalign, you wear a set of clear aligners, replacing them every two weeks to progress the treatment process. We'll only need to see you in our practice about every other month to make sure your teeth are responding properly to the aligners. From there, we'll send you home with the next several sets of translucent trays to continue your treatment.
How Long Does Treatment Take?
Each Invisalign case is unique. For our patients who only require cosmetic tooth alignment at the front of their mouth, treatment may take as few as six months. Comprehensive orthodontic cases range anywhere from 12-18 months. We'll be able to provide you with an estimated length of time during your orthodontic evaluation.
A Comfortable Alternative to Braces
Our Invisalign patients love the freedom they have to eat all their favourite foods and take their braces out to brush and floss. Aligner style braces are much easier to maintain, helping you to manage your oral health throughout the process. Additionally, each aligner is custom fitted to your mouth, so there are no rough metal wires or brackets to irritate the inside of your cheeks and lips.
Keeping Your Aligners Clean
Remove your Invisalign trays each time you brush, cleaning the inside of the aligners out with lukewarm water and a soft toothbrush. Be sure to rinse your trays anytime you drink dark liquids between meals, such as coffee or soda. If stain starts to build up before it's time to change your aligners out, try soaking them in a denture cleanser for an hour and then brushing away the loosened film. Get the smile of your dreams. Schedule your appointment with our practice today or call us on (02) 9231 3822.
CONTACT US »

Invisalign® Sydney CBD | CDC Dental