Cosmetic Dentist in Sydney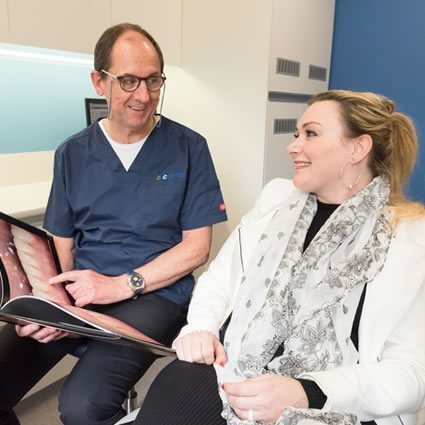 At CDC Dental, we understand the importance of your oral health. It isn't just about avoiding costly and complex work in the future; you also want to be proud of the way your teeth look. We provide a full suite of services to be sure that we meet your needs.
A Variety of Options for You
Your teeth can have a dramatic impact on how you feel about yourself and how others see you. A brilliant smile is the ultimate confidence booster! If you wish you had a smile that you'd want to show off to those around you, we can help you get there. A range of cosmetic dentistry services is available at CDC Dental.
NEW PATIENTS »

Cosmetic Services
Dentist Dr Tony Goswell can help you create a customised treatment plan of a combination of these services to meet your needs.
Our cosmetic services include
Composite and porcelain veneers
Composite and Porcelain Veneers
Give your teeth a brighter, more beautiful look by getting veneers in composite or porcelain form. Veneers can do the following:
Cover chips, stains and misalignments
Mask misshapen teeth
Straighten crooked teeth
Close spaces between teeth
Veneers bond to your teethand are exceptionally strong and highly stain resistant. They will last for years with the proper care. Each form of veneers has its own advantages:
Composite. With composite veneers, you can complete your treatment in a single visit. The composite material is painted layer by layer onto your teeth. Then, it's shaped, hardened and polished to a luminous finish.
Porcelain. Porcelain veneers are the strongest and most long-lasting form of veneers. They also look extremely natural. Created by our laboratory, your porcelain veneer treatment is completed over two separate appointments.
Crowns and Bridges
Dental crowns and bridges can be great options to restore and revitalise your smile.
A crown is a restoration that encapsulates a single tooth to protect and strengthen the remaining structure.
A bridge is utilised to replace one or several missing teeth and is secured by crowns attached to your natural teeth on either side of the restoration. A bridge can be used as an alternative to a partial denture.
Dental Implants
Missing teeth can mean you want to hide your smile or are unable to enjoy the foods you love. With a dental implant, you can restore the function and appearance of your teeth. A dental implant is a titanium root implanted into your jawbone. Your jawbone accepts it as it would the root of a natural tooth. Then, a crown, bridge or denture can be affixed to the implant, completing your treatment.
Dental implants are the state-of-the-art form of tooth replacement. Patients love that their dental implant looks, feels and works just like a regular tooth would. You can treat it just like other teeth, with brushing and flossing being essential to keeping the implant in good shape.
Digital Smile Design
When it comes to cosmetic dentistry, you want to know what you can expect after treatment. Surprises are never welcome when it comes to your dental care! As such, we offer a revolutionary way to show you exactly how your new smile will look when you have completed your treatment.
Digital smile design creates a mock-up of your proposed new smile that can be placed over your current teeth. You'll be able to see what you will look like after treatment before you even decide to begin.
Invisalign®
Straighten your teeth into a brilliant smile with clear, comfortable braces that can be removed at your convenience. Invisalign is a discrete alternative to metal braces, and makes transforming your smile a breeze. It's suitable for adults and teens alike. We can advise as to whether you are a suitable candidate for Invisalign®.
Recontouring and Bonding
Do you see imperfections when you look at your smile? With recontouring and bonding solutions, we can
Change a tooth's length, shape or surface
Repair slight imperfections
These effective solutions allow you to give your teeth the look you want, blending the restored tooth in with your surrounding natural teeth.
Smile Makeovers
Everyone deserves to have a smile that makes them feel great. A smile creates first impressions and shows who you are to the people around you.
If you'd like a brilliant smile and great oral health, we're ready to discuss making over your smile from a combination of the many services we offer. We'll customise a treatment plan to your needs to make the changes you desire.
Teeth Whitening
With the Zoom! Whitening system, you can have whiter teeth in one single visit, or you can choose to do so in your free time with a take-home kit. Zoom Teeth Whitening is considered to be one of the best rated systems in the world! Our patients have been extremely happy with these systems.
FAQ
How will I know which treatment is most suitable for me?
The world of dentistry can be confusing to navigate on your own. With so many options out there, you want to be sure you pick the treatments that are most appropriate for your goals. That's why we meet with all of our patients to plan out their treatment. At your consultation, we'll discuss what you'd like to achieve. Then, we will detail all possible options to get your desired outcomes. You and your dentist will create a final plan together.
How long does the effect of teeth whitening last?
You'll notice a dramatic difference directly when you complete your teeth whitening procedure. It does, however, begin to wear off with time. Results will vary for each patient. You can choose to have your whitening touched up when appropriate. You can also prolong the whitening by avoiding staining foods and beverages and refraining from tobacco use.
How long will my cosmetic dentistry treatment take to complete?
The length of your treatment plan is completely up to you. Some patients choose to space out their treatment, while others want to get it all done in a single appointment. We'll discuss what your preference is and accommodate you as part of your treatment plan with us.
Contact Us Today

Here at CDC Dental, Dentist Dr Tony is a proud member of the American Academy of Cosmetic Dentistry. Get the smile of your dreams, starting today. Schedule your appointment at our practice! Insurance is accepted for cosmetic dentistry Sydney CBD. Call us today on (02) 9231 3822!
CONTACT US »

Sydney Cosmetic Dentist | (02) 9231 3822