Digital Smile Design in Sydney CBD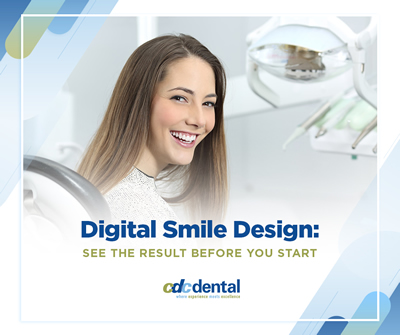 Digital Smile Design (DSD) is a state-of-the-art dental technology that we use at CDC Dental. DSD is used to create and plan the ideal smile for you. Unlike conventional dentistry, you'll know precisely what your new smile will look like before you begin treatment. DSD is ideal for those with crooked, cracked, discoloured, chipped or misaligned teeth.
See What Your Smile Will Look Like
DSD is a modern tool that was developed by Dr Christian Coachman as a means of using an array of technologies to evaluate a patient's smile. Once we collect this information we can pre-plan the restorative result of any cosmetic dental treatment. So you can see the results before agreeing to any procedure, we also have the ability to develop a mock-up.
Dentist Dr Tony Goswell will place this mock-up over your teeth so that you can see how the treatment will make you look. Once you've selected your new smile, you will come in for a series of appointments to perfect your smile with our years of expertise in cosmetic dentistry.
What Does the Process Involve?
There are six steps involved with DSD to help you achieve your desired smile:
1) Tony will take digital photographs of your current teeth and smile.
2) A video will be taken of you smiling and talking to show how your smile and speech affect the appearance of your teeth. Seeing yourself from this different angle will help you to decide on the results you want.
3) Tony will conduct a smile design analysis with the end result in mind. Various cosmetic dentistry options will be combined to help you achieve your desired smile. We work with ceramists, dental technicians and specialists as part of the smile design process.
4) You will be shown how your final smile will appear and mock-ups will be crafted to show you the final result. You will have an opportunity to make any last-minute adjustments to elements of the smile design such as tooth length, colour and shape.
5) The final design is then completed and approved. We will provide you with the costs and duration of treatment to ensure you wish to proceed. You will then be given all of the relevant information you need to know about the upcoming treatments.
6) After treatment, you will get predictable results and will be able to enjoy the smile that you selected in the planning stage.

Get Started Today
The initial step of getting a digital smile design is scheduling a consultation with Tony here at CDC Dental. We feature convenient payment plans.

Digital Smile Design in Sydney CBD | CDC Dental