Meet the Team at CDC Dental
At CDC Dental, we're truly one big, happy family. Our team is close-knit and loves to get to know our patients. We're ready to welcome you into our practice family!
Narelle – Practice Manager
Narelle has worked at CDC Dental since 1999, firstly as a dental assistant and currently as the practice manager. Her friendly and caring personality is an asset to the practice. Narelle enjoys working as part of the team to help our patients feel comfortable with all aspects of their treatment.
When she is not at the practice, Narelle enjoys living a fun, fit and adventurous life with her daughter.
Chanel – Oral Health Therapist
Chanel, our Oral Health Therapist graduated from the University of Sydney with a Bachelor in Oral Health (BOH). She was presented with multiple awards for her outstanding clinical care, obtaining:
Hu Friedy Golden Scaler Award for best Hygienist and Therapist 2018
Dental Hygiene Association of Australia NSW Branch Prize
Dean's List of Excellence in Academic Performance Award, with her name currently listed on the honours roll on the University of Sydney Website
Chanel is dual qualified as both a Dental Hygienist and Dental Therapist. She is very approachable and has a warm, calming and friendly manner. She provides periodontal care and maintenance for our adult patients, as well as restorative and preventative dental care for children. Chanel has a passion for all things dental, with a special interest in treating children and always providing a positive experience for her patients.
Get to know Chanel at your next visit with us!
Michelle – Dental Hygienist
Michelle earned a Bachelor of Oral Health in 2009 from the University of Newcastle. She puts her patients at ease with her friendly, gentle approach. Periodontal maintenance and a focus on preventative dental care has always been Michelle's focus. She takes pride in providing a relaxing dental experience for all her patients.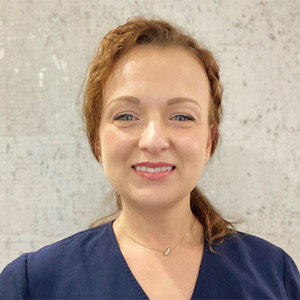 Oksana – Dental Assistant
Oksana earned a dental degree in Ukraine, and in 2017, she moved with her family to Sydney. There, she started working as a dental assistant and has studied since 2018. Oksana has served as a dental assistant at CDC Dental since 2019. She is currently in the middle of getting accreditation by the Australian Dental Council (ADC).
Schedule an Appointment
Please read our information on 'A Healthy Mouth', for what to expect during a hygienist appointment.
Get the attention you need to bring your oral health to a whole new level. Schedule your appointment today!
CONTACT US »

Meet the Team at CDC Dental | (02) 9231 3822