Emergency Dentist in Sydney
Experiencing Pain or Discomfort?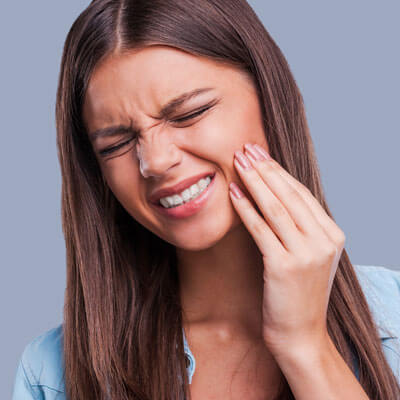 At CDC Dental, we understand that dental emergencies can occur at any time – day or night. To address your concerns when you need it most, we attend to emergencies as soon as possible and will do all we can to work you into our schedule immediately. Our kind and caring team members are here to lend their support and will ensure that you're pain-free and feeling well again in no time.
If your emergency occurs outside practice hours, please call us, as we will be able to advise you on the best course of action. Your oral health and wellbeing is our top priority, so we can assure you that you're in the best hands.
Do You Have a Dental Emergency?
Often, it can be difficult for a patient to determine whether their concern is an 'emergency' or not. As a simple rule of thumb, we believe a dental issue is deemed an emergency if you are experiencing severe pain and discomfort.
Some of the most common dental emergencies include:
Broken, cracked, or knocked-out teeth
An abscessed or infected tooth
Toothache
Lost filling
Dental extractions, including wisdom tooth removal
If you're experiencing any of these issues, we advise that you see us as soon as possible. Remember, delaying treatment for dental emergencies may lead to more complex (and therefore more expensive) treatment down the track. In some cases, the damage may even become irreversible if medical attention isn't received immediately.
Frequently Asked Questions
Dental emergencies can include situations such as severe toothaches, knocked-out teeth, broken teeth, abscesses, oral bleeding that doesn't stop, severe infections and injuries to the mouth or jaw. Anything that causes severe pain or compromises your oral health is considered a dental emergency.
Will an emergency dentist remove my tooth?
An emergency dentist may extract a tooth if it is deemed necessary for your oral health. The dentist will assess your condition and explore all possible treatment options before resorting to extraction which is typically considered only when a tooth is severely damaged or infected or cannot be saved. Options to save teeth include fillings, root canals or crowns.
How can I stop my tooth from throbbing nerve pain?
To temporarily relieve throbbing nerve pain in a tooth, you can try over-the-counter pain relievers like ibuprofen, rinse your mouth with warm salt water, apply a cold compress to the outside of your cheek and avoid hot or cold beverages. However, it is essential to see an emergency dentist for a proper diagnosis and treatment.
How can I sleep with unbearable tooth pain?
Sleeping with unbearable tooth pain can be challenging, but you can try propping your head up with pillows, using an over-the-counter pain reliever (as directed), rinsing your mouth with warm salt water and avoiding extreme temperatures in your food or drink. However, seeking dental care should be a priority to address the underlying issue.
What is the most common dental emergency?
The most common dental emergency is a severe toothache, often caused by dental decay, infection or a damaged tooth. Other common emergencies include knocked-out teeth, broken teeth and gum abscesses.
Is severe tooth pain an emergency?
Yes, severe tooth pain can be considered a dental emergency, especially if it is accompanied by swelling, fever or other concerning symptoms. It may indicate an underlying issue that an emergency dentist will need to assess.
Why are toothaches worse at night?
Toothaches can feel worse at night due to a number of factors. When you lie down, blood flow to the head increases which can intensify the pain. Distractions are reduced at night which may mean the pain is more noticeable. It's also possible that changes in posture can affect blood flow and pressure in the affected tooth leading to discomfort.
Can I go to the hospital for tooth pain in NSW?
Yes, you can go to the hospital for tooth pain in New South Wales. While hospitals may not be equipped to provide comprehensive dental care, they can offer pain relief and assess the situation. However, it's generally recommended to visit an emergency dentist as they are specifically trained to handle dental emergencies.
Contact Our Office
To schedule an emergency dental appointment at CDC Dental, please contact us today. We're open Monday – Friday from 8 a.m. to 5 p.m. and are centrally located in the Sydney CBD, with easy access by car, bus or train.
CONTACT US »

Emergency Dentist Sydney | CDC Dental