Dental Crowns in Sydney CBD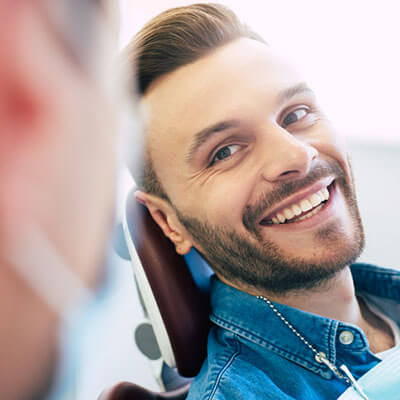 The team at CDC Dental is dedicated to excellence in all they do. With our years of experience, we provide a full suite of services for you to choose from. Our treatment options include restorative dentistry, which is designed to address teeth that have been lost or damaged.
A tooth with compromised structure can be addressed by having a dental crown. This simple option will restore the function and appearance of your tooth so that you don't have to worry about further damage to your oral health.
What Is a Dental Crown?
Commonly referred to as a cap, a dental crown strengthens and stabilises existing teeth whose structure has been compromised. A crown conceals the rest of your existing tooth so that you can chew normally. There are many cases where a crown may be needed instead of a filling:
To function as a dental implant cover
To prevent additional trauma from clenching and grinding
To protect a tooth that has a sizeable area of decay
To reinforce a tooth that has been treated with a root canal
To replace an older filling that shows signs of damage
If Dentist Dr Tony Goswell determines that a crown is an optimal choice for your smile needs, we'll design your crown to precise specifications, fitting it seamlessly with your other teeth. You won't notice that it's not a natural tooth and it won't stand out to anyone who might see it. We will ensure that it's a perfect match with the rest of your smile.
Helping our patients enjoy beautiful, natural-looking smiles is one of our greatest passions. We also want you to enjoy the treatment you want at a price that's affordable. We love to improve the smiles of our clients, and we don't want cost to be a barrier. At CDC Dental, we feature flexible payment options so you can get the dental care you need straightaway!
When you choose your dentist, you want to be sure that they have the experience and high standard of care that you deserve. Tony received his dental qualification in 1980 at the University of Sydney. In 1987, he furthered his education by becoming a Fellow of the Royal Australasian College of Dental Surgeons.
With a commitment to constantly bettering his skills, Tony takes regular continuing education courses. His expertise includes dental crowns, dental implants, Invisalign® and more. Each day, Tony enjoys the challenges of being a dentist and likes to create lasting relationships with his patients, gaining their trust.
What materials are crowns made of?

Depending on the tooth that requires treatment, most crowns are made of durable and long-lasting porcelain materials. If we feel any other material is appropriate for you, we'll be sure to discuss it with you at your initial consultation.
Do crowns look like natural teeth?

Yes, the precise colour and shape of the crown resemble the appearance of other teeth so that it blends in beautifully with your smile. We design your crown to fit seamlessly and work closely with our dental laboratory to ensure it's made to exact specifications.
How long does the process of getting a crown take?
About two appointments are required to complete most crown treatments. First, Tony will remove the damaged part of your tooth, leaving behind only the healthy portion. Then, we will take an impression of your tooth, and a temporary crown will be placed over it. The impression will be utilised to fabricate the customised crown in our lab.
Approximately two weeks after that appointment, Tony will remove the temporary crown and bond the permanent one onto the tooth. He will make sure that your bite is comfortable and will make any necessary minor adjustments to the crown before you leave the office.
Is it okay to wait and see if I feel that I need a crown after my tooth has been damaged?

If you require a crown, it's important that you get treated as quickly as possible. That's due to the fact that the weakened enamel can easily break to the point where the tooth should be removed.

How do I know if I'm a candidate for a dental crown?

The only way to know whether a dental crown will address your particular oral health concern is to have a consultation. We'll meet with you for this appointment, discuss your concerns and take a look at your tooth. After doing so, we can tell you what all possible treatment options you have, which may include dental crowns.

Who can benefit from having a dental crown?

A dental crown is appropriate for anyone who has a tooth with a weakened structure. Some examples of this include severe decay, fractures, breakages or post-root canal treatment.
Why is a crown needed after getting a root canal?

A root canal is the treatment of choice for those who have an infection deep in the root of the tooth. You don't want to lose a tooth to extraction. Instead, you can choose to have a root canal procedure. This process includes cleaning the infection out of the tooth. Because the infection has weakened the tooth, it may be subject to breakage and is worn down. A dental crown will restore the strength of your tooth so that you don't have to worry about the health of your smile.
Do you accept private health insurance?

Yes. We accept all major health funds and have a HICAPS machine on-site so that you can claim your rebate straightaway at your appointment.

Are payment plans available at your practice?

Yes. If you are interested in a flexible payment plan, we will be happy to discuss these options with you.

Get Started Today
Are you interested in learning more about dental crowns Sydney CBD? Preserve and enhance your smile by contacting CDC Dental now!
CONTACT US »

Dental Crowns Sydney CBD | CDC Dental