Dental Spa Experience in
Sydney CBD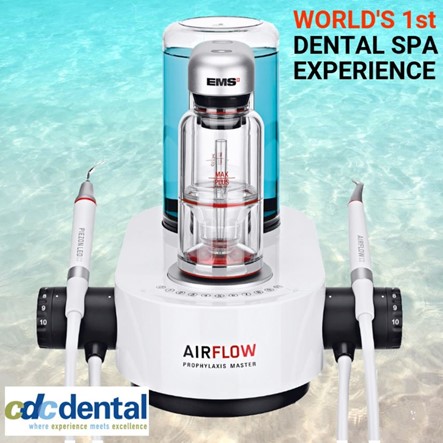 When you choose CDC Dental for your dental health needs, we want you to have the best experience possible. That's why we're proud to now give our patients a 'spa' like atmosphere.
Imagine this: You come to our practice for your hygiene appointment, lay back in the chair, open your mouth, and all you feel is a stream of warm water gently cleaning your teeth. Sounds too good to be true?
With us, it's a reality.
Using AIRFLOW®, an innovative Swiss state-of-the-art technology and following a special plaque removing technique, we will make your dental checkup and clean FEEL like a day at the spa.
What is the AIRFLOW system?
This new system allows us to provide you with the same great cleaning experience, but without any discomfort or scraping and loud noises.
The high-pressured system involves a combination of water, air and a very fine cleaning powder that is designed to target hard to clean areas and remove plaque and tartar buildup easily. You can think of it as a 'facial' for your teeth!
NEW PATIENTS »

Frequently Asked Questions
How does the system identify plaque?
Your dentist
or
hygienist
will place a coloured dye in your mouth that grabs on to the plaque and bacteria that needs to be cleaned and removed. This way, we'll be sure to clean your teeth brilliantly and get everything we can removed so you leave feeling refreshed.
Can the AIRFLOW system treat gingivitis?
The system can certainly help remove plaque buildup that can lead to gum problems like gingivitis. Depending on the seriousness of your gum disease, we may recommend a deep clean-we'll let you know as soon as we examine your unique needs.
What if my teeth are covered in hard calculus?
If your teeth are covered in hard calculus, we may need to use an additional ultrasonic system on your teeth. But there's good news-thanks to the power of the AIRFLOW system, the time necessary for the ultrasonic system is greatly reduced.
Can the system be used if I have metal braces or other cosmetic work like veneers and crowns?
Yes! The system is gentle enough to not disturb any permanent dental work or temporary work like metal brackets. There's no need to worry about veneers, crowns or implants-they can all be treated and cleaned easily.
Learn More Today
For more information regarding AIRFLOW® and the benefits, visit www.emsdental.com. If you'd like to book an appointment, contact us today to do so. We can't wait to welcome you into our care.
CONTACT US »

Dental Spa Experience Sydney CBD | (02) 9231 3822