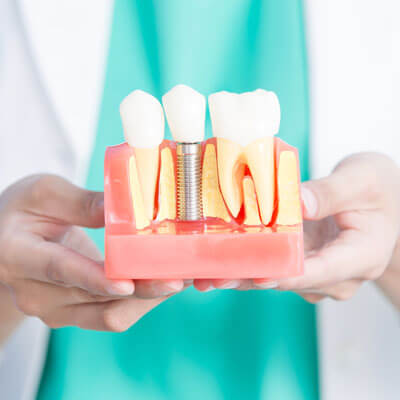 Thanks to advancements in modern dentistry, those with missing teeth no longer need to rely on dentures to restore the function and appearance of their smile. In particular, dental implants are an excellent and long-lasting tooth replacement option.
What Is a Dental Implant?
A dental implant is a small, titanium post (screw) that is surgically placed within your jawbone beneath your gum line. This post will fuse with your jawbone, creating a stable foundation for your tooth restoration. Not only does the implant fuse with your bone like a root, but it helps to preserve your bone structure.
The other part of an implant is the restoration, which sits on top. Usually, the restoration is a single crown that replaces one tooth. Dental implants also can support multiple missing teeth with a bridge and even stable dentures.
When cared for properly, dental implants can last for a lifetime. For this reason, and the many other benefits associated with dental implants, they are considered to be the best recommendation for permanently replacing missing teeth.
Which Type of Dental Implant is Best for Me?
Here's a look at the types we offer at CDC Dental:
Single Tooth Dental Implants

An implant functions like a natural tooth root. When placed into your mouth, we can affix a porcelain crown on top of the implant to mimic the design and purpose of the tooth that is being replaced. This solution is appropriate for people who want to replace only one of their teeth.

Multi-Tooth and Full-Arch Solutions

Implants are extremely strong and can be used in pairs to support dental bridges or even a full-arch denture. This stabilised alternative to conventional partials and plates makes an implant prosthesis more comfortable to wear, talk or eat with. You can choose this restoration if you are missing several teeth or all of your teeth.
Offering a Free Digital Smile Design Consult
If you're interested in dental implants as part of a smile makeover, we're now offering a free digital smile design consult!
Using this state-of-the-art technology, you can see how your smile will look with a custom-crafted treatment plan. Call (02) 9231 3822 today to book your time!