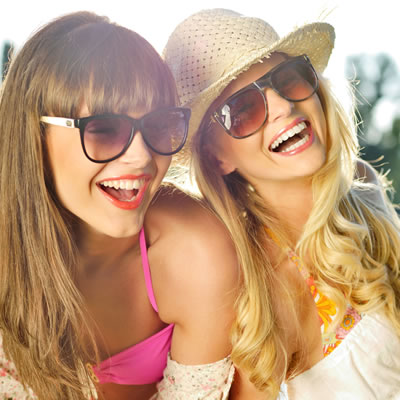 The confidence of knowing you have a beautiful, healthy smile is priceless. But if you have teeth that are worn down, broken or misshaped, you may be hesitant to show your smile off at all. Fortunately, cosmetic dentistry treatments like dental veneers and porcelain crowns can rebuild or enhance your teeth in just a couple of trips to our office.
Advantage of Porcelain Crowns
Dental crowns cover your entire tooth up to the gumline. As a restoration that provides reinforcement, crowns strengthen weak or decaying teeth that might otherwise break down from everyday use. Like veneers, porcelains crowns come in a variety of different colours. So while you're restoring and protecting a tooth, you can also enhance the way it looks. Ultimately the goal of a porcelain crown is to both repair a tooth and also blend in with all of the neighbouring teeth.
Benefits of Dental Veneers
Dental veneers work best for healthy teeth that need a bit of enhancement for their size, shape or alignment. Unlike crowns, veneers don't play a role in rebuilding broken or worn teeth. They're bonded to the front of intact teeth to change how they look when you're smiling. We usually place them in sets of 6-10, across your upper front teeth. You can use veneers to close up gaps between teeth, adjust their contour and drastically brighten your overall smile.
Request a Digital Smile Design
We provide a complimentary Digital Smile Design service that allows you to preview a digital mockup of what your teeth could look like after cosmetic treatment. If you're thinking about something like dental veneers, crowns or even teeth whitening, we can just click a few buttons and show you a virtual simulation of how it would impact your smile. When you have a visual of what your final goals are, you can feel more confident moving forward with the actual treatment.
Contact us today to reserve a smile makeover evaluation and digital mock-up.