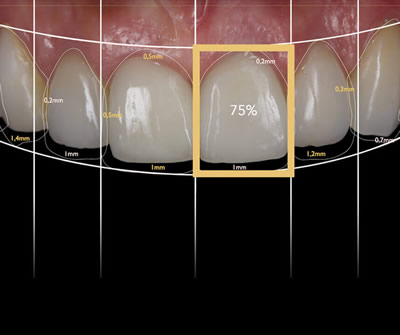 At CDC Dental, we're proud to stay up to date with the latest technological advancements in the field of dentistry.
To help our patients achieve the smile of their dreams, we are pleased to offer Digital Smile Design at CDC Dental.
Digital Smile Design, also known as DSD, allows us to create and plan the perfect smile for you and then be able to show you exactly how it will look in your mouth. Even before treatment begins you will be able to see exactly how your new smile will look.
Advanced Technology
In six simple steps, we can help you smile bigger, brighter and more confidently.
DSD involves:
Photographing your current smile and teeth.
A simple video of you smiling and talking will be taken to show how the shape and position of your teeth affect your smile and overall appearance.
Dr Tony Goswell will create a Digital Smile Design based on your wishes and works with his expert dental ceramists and other dental specialists to achieve the best treatment plan and outcome.
Time to see and test your final smile. A temporary mock up of your new smile is placed over your existing teeth without altering them in any way. Together with Dr Tony Goswell you will have the opportunity to make any adjustments to the design of your new smile.
We will finalise the design and give you a cost breakdown for the treatment.
Lastly, when treatment is complete, you'll get to enjoy your new and improved smile that you helped create!
Schedule Your Visit
Ready to learn more about how we can help you achieve the smile of your dreams? We can't wait to meet you. Schedule a visit with our team by contacting us today.
Digital Smile Design | CDC Dental