Meet Dr Oksana Verlan (Dentist)
Experience and Education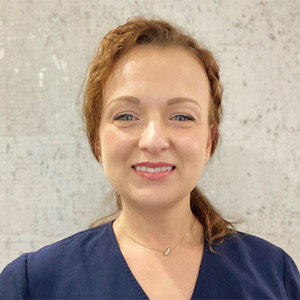 In 2004, Dr Oksana Verlan graduated from the Ukrainian Stomatology Medical University with a Master of Dental Surgery. She has been practising dentistry since 2012. In 2017, she moved to Sydney with her family and worked as a dental nurse in Australia. Dr Oksana was a dental assistant at CDC Dental from 2019, and in 2022, she successfully completed the Australian Dental Council examinations to become fully registered as a dentist in Australia.To stay abreast of the latest in the dental field, Dr Oksana is constantly updating her knowledge. She regularly attends courses and seminars and is a proud member of the Australian Dental Association.
Helping Patients Achieve Healthy Smiles
Dr Oksana is passionate about providing the safest and least invasive treatments for her patients to keep their smiles bright and healthy. All dental procedures occur in a friendly environment, and she strives to provide comfortable, cost-effective treatment at all times.
She is most interested in using all the latest techniques and materials available in dentistry today to deliver the best possible outcome for her patients. Dr Oksana enjoys solving complex restorative cases while at the same time keeping her patients fully informed and comfortable. Dr Oksana also enjoys providing Invisalign treatment and loves looking after children.
Putting Nervous Patients at Ease
If you experience dental anxiety, know that you're not alone. Dr Oksana helps to ensure that nervous patients feel comfortable at every visit. She takes the time to listen to their concerns and will explain everything in advance before she provides treatment.
Your Smile Is in Capable Hands
Whether you're seeking preventative dental care or want to enhance the appearance of your smile with Invisalign treatment or one of our many cosmetic dental services, Oksana provides outstanding dentistry to help you achieve your goals.
Contact us today to schedule an appointment!

Dr Oksana Verlan | (02) 9231 3822